Women's Sunday School ~ West
February 4th - May 20th, 2018
The Bible tells us in Romans 12:2 that we are transformed by the renewing of our mind…not by more self-control. This class based on the book "Taste for Truth," will reveal tools to help us make lasting changes in our approach to life and food. We'll learn to recognize the lies that cause our unhealthy habits and the truths that can set us free as we are transformed by God's word.
Lessons from the book, from Scripture, and discussions with other women each week will encourage and uplift us. Come join other sisters in Christ for "Taste for Truth" Sunday mornings at 10 am in Classroom A!
Resources used in this study, authored by Barb Raveling:
"Taste for Truth"
"Freedom from Emotional Eating"
"I Deserve a Donut… and other lies that make you eat" (also available as a free app)
One or more of these books may be purchased ahead of time and brought to the study but they are NOT required. Facilitator: Julie Jacobson
Christmas Craft Fair
March 1st - May 31st, 2018
$40 - $120
The Triumph Church 2018 Christmas Craft Fair is BACK and it's bigger and better than ever.
In addition to the 30+ craft vendors, we will be adding another 15+ vendors who sell a variety of other products. We will also have a bake sale, lunch items and live music.
When: November 17th at Triumph West from 9 AM until 3 PM.
Where: Triumph West which is located at 3745 Sheyenne Street in West Fargo, ND
Questions: Call 218-233-4048 or email mark@triumphlbc.org
NEW! "My Store" is available to the first 8 vendors and offers a premium space in the vendor wing.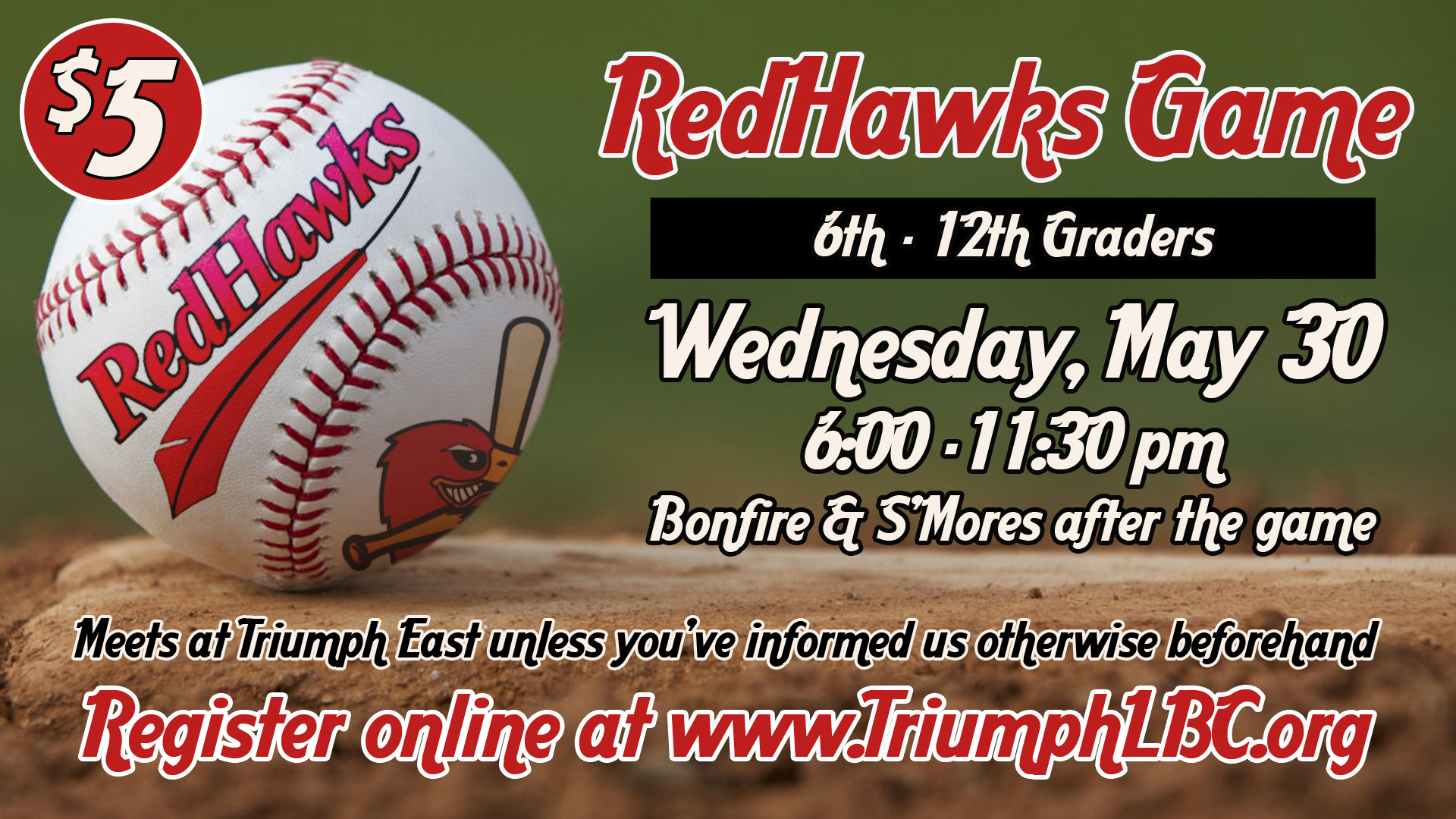 Youth Red Hawks Game
May 30th, 2018
$5
Take me out the ballgame, Triumph Youth!
On Wednesday, May 30th, 6th-12th graders are invited to see the FM RedHawks battle the Sioux Fall Canaries! We will meet at Triumph East at 6pm, shuttle over to Newman Outdoor Field, then be back at the East campus for bonfire and s'mores.
Triumph Women's Summer Bible Study ~ West
June 19th - July 31st, 2018
$0
Women everywhere marvel at those good girls in Scripture--Sarah, Mary, Esther--but on most days, that's not who they see when they look in the mirror. Most women (if they're honest) see the selfishness of Sapphira or the deception of Delilah. They catch a glimpse of Jezebel's take-charge pride or Eve's disastrous disobedience. Like Bathsheba, Herodias, and the rest, today's modern woman is surrounded by temptations, exhausted by the demands of daily living, and burdened by her own desires.
So what's a good girl to do? Learn from their lives, says beloved humor writer Liz Curtis Higgs, and by God's grace, choose a better path. In Bad Girls of the Bible, Higgs offers a unique and clear-sighted approach to understanding those other women in Scripture, combining a contemporary retelling of their stories with a solid, verse-by-verse study of their mistakes and what lessons women today can learn from them. DVD teaching by Higgs included.
Join us at Triumph West for this 7-week Bible study with facilitator, Casey Baardson. What a great opportunity to stay engaged in God's Word this summer, catch up with friends and make some new ones! Hope to see you there.
Triumph Women's Summer Bible Study ~ East
June 21st - August 2nd, 2018
$0
What is the deep cry of your heart? The ache in your soul that keeps you up at night? The prayer you keep repeating? Jesus not only cares about this deep, spiritual wrestling, but He also wants to step in and see you through it.
Join Lysa TerKeurst on the streets of Israel to explore the seven I AM statements of Jesus found in the Gospel of John. Through this interactive, in-depth study we will be trading feelings of emptiness and depletion for the fullness of knowing who Jesus is like never before.
Join us at Triumph East for this 6-week study (we will NOT meet July 5th) with facilitator, Jeri Nellermoe. Let's stay engaged in God's Word this summer, catch up with friends and make some new ones! Hope to see you there.
(Please note - no child care provided for summer study.)
Splash -n- Dash 2018
June 27th - June 29th, 2018
$35
Get ready for Splash -n- Dash 2018!
On June 27-29, those heading into grades 6th - 12th will have the opportunity to shop at the Mall of America, to worship at Oak Hill LB Church in Bloomington, MN, and to get soaked and enjoy all the rides at Valley Fair.
Schedule
• We will be departing June 27th at 9 AM from the east campus and returning June 29th at 6 pm
• On June 27th we will go to Minnehaha Falls for 3 hours during our lunch break.
• Later that day we will participate in a scavenger hunt at the Mall of America followed by a worship and teaching session at Oak Hill
• On June 28th we will spend the entire day at Valley Fair
• On June 29th we will enjoy breakfast and lunch in the cities followed by our drive home.
*Cost - $35 if paid and registered by May 25th for the first 20 students who prepay. On May 25th the cost goes to $45. Cost includes 3 of 9 meals and admission to Valley Fair.